Busy Mom Sheds 34 Pounds Ahead of 40th Birthday
[ad_1]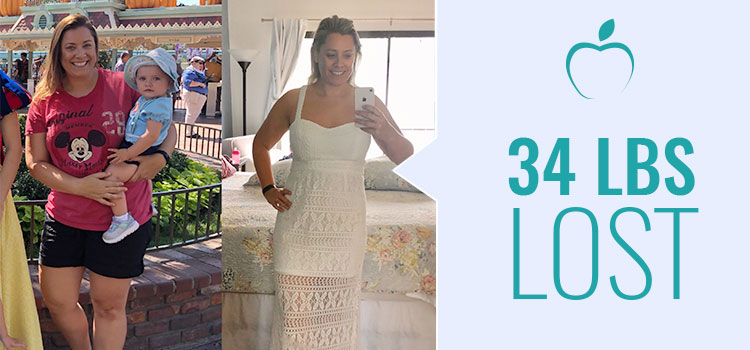 Name: Lauren Vaz
Age: 39, 40 on Sept. 2
Occupation: Senior procurement manager
Meal Plan: Balance
Favorite Meal: Pulled pork (dinner); peanut butter & jelly (lunch)
Starting weight: 199
Height: 5'6"
Pounds Lost: 34
Activity Level: Daily walks
When I get a craving, my go-to trick is: Drink a ton of hot tea, all different flavors.
When Lauren Vaz recently put on a bikini for the first time since she was 24 years old and shared the photo on Instagram, it was an emotional moment for her.
"I had so many messages about it from tons of people reaching out to tell me how amazing I looked," Lauren said. "My sister's best friend called her and said, 'Your sister!' She's like, 'Ok we need to lose weight now.'"
Lauren said it was huge for her.
"I have a friend who always posts these amazing bikini photos, and I never thought I could do that," Lauren said. "I've come a really long way. My self confidence was so low this time last year, and now I'm so proud."
It was a yearlong journey that started in September 2019. A trip to Disneyland at the time and the fact that it would be a year until she turned 40 years old served as the catalyst for Lauren to decide enough was enough — it was time for a change.
"Before I went [to Disneyland], I couldn't get a pair of shorts on that once fit me," Lauren said. "I realized I was a size 16, and that's two sizes bigger than I'd ever been."
Lauren stepped on the scale and saw her weight had climbed to 199 pounds.
"I weighed more than when I had my second child, when I was 190," she said.
With the support of her husband, she began making small changes to reach her goal of losing 40 pounds by the time she turned 40 — something she had a year to accomplish.
She gave up alcohol and she and her husband started meal prepping for the week. The progress happened slowly and steadily, and in January 2020, Lauren began researching meal delivery plans.
"I thought, 'I need delicious food that I'm going to eat…without tracking it [on an app],'" Lauren said. "I Googled it and [Diet-to-Go] came up with the best-tasting food. And then I saw success stories that looked real, and I saw I could get it seven days a week, that I could substitute out the food I didn't like, that I could do vegetarian. Plus, it's really flexible with the vacation holds."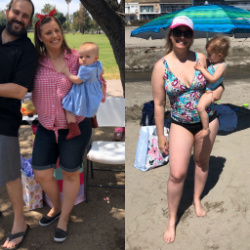 Lauren, a full-time senior procurement manager and mother of two little girls, said that flexibility and having quality food was important to her since she'd tried other diet plans and was never able to stick with them long term.
"I tried Weight Watchers many times, starting in my 30s," Lauren said. "The main reason I failed is because I didn't want to track my food. I hated tracking my food. That's the No. 1 reason I chose you."
Diet-to-Go meals are chef-crafted, pre-portioned, controlled for calories and delivered weekly, something Lauren said made it just the right fit for her.
"I wanted to be successful, I wanted it, but I just couldn't do it [with other programs]," Lauren said. "I couldn't track the food. I have my kids. I'm not intermittent fasting, I'm not eating in a 4-hour window. I just can't do that."
Lauren said by utilizing the three-meals-per-day, seven-days-per-week Balance 1,200 vegetarian program, the pounds rolled off.
"I've never been successful with being in the gym," Lauren said. "I literally just order the food and eat it. I don't have a set workout schedule."
Lauren said with her busy 8 a.m. to 5 p.m. job and her 4-year-old, Layla, and 2-year-old, Olivia, she has a hard time fitting in exercise.
"I go walking with the kids," she said. "I'm just not a workout person. I love walking, playing on the beach, going to pools and swimming."
Lauren said instead, she focuses on eating healthy, something nutritionists say is the most important element to losing weight.
"I think a lot of the reason why I was so successful is because I did the vegetarian plan…I didn't snack," she said. "The only thing I would treat myself with is diet ice cream. For me, it felt extremely successful over the long term."
Lauren said even having to quarantine and work from home during the height of the COVID-19 pandemic didn't affect her like it did others.
"It did the opposite for me, it helped me stay on goal," she said. "My food came like clockwork. I didn't have to deal with a food shortage. There was no problem staying on my diet. We couldn't go to restaurants, so that helped, too."
These days, Lauren continues with Diet-to-Go's Balance dinner-only plan. She said sticking with the meals for so long helped teach her about proper portion size and what healthy food looks like.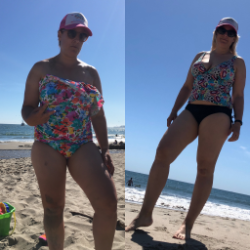 "I'm learning. That's what Diet-to-Go has done for me," she said. "I'm seeing the food I'm eating every single day. I can recreate it. I learned about portion sizes. I learned from what I ate and I can maintain it now."
Now, down 34 pounds, Lauren said she loves the meals and will continue ordering them.
"I love just having the dinners," she said. "I'm not a great dinner cook. … It's totally worth the money; quite frankly, I'd spend so much more making my own dinners."
Lauren also said she loves the company and the customer service. "You can just tell that in communications with the company that they care," she said. "They want their customers to be successful. They welcome new customers. I love seeing people's success. I love cheering them on. I love sharing their success. It feels really good."
Do you have a success story to share? Email us at support@diettogo.com with "Success Story" in the subject line!
————————————————————————————
Author: Caitlin H
Diet-to-Go Community Manager
Caitlin is the Diet-to-Go community manager and an avid runner. She is passionate about engaging with others online and maintaining a healthy, active lifestyle. She believes moderation is key, and people will have the most weight loss success if they engage in common-sense healthy eating and fitness.
[ad_2]